Stereotec offers 360° VR Solutions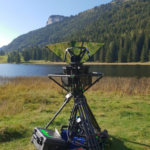 Stereotec offers high quality 360° VR Recording without the disadvantages of current solutions (GoPro Rigs, Ozo,…). With mirror solutions (Omnicam) and professional cameras like 6 x ARRI Alexa we can achieve a parallax free image without dead spots when objects come close. The resolution is at a minimum of 10 k x 2 k or more. This system can be used for high quality backplates for movies or all high quality 360° content.
We recently used this technology to create 360° content for a health institute. They used this material in a special environment to prevent burnout symptoms.