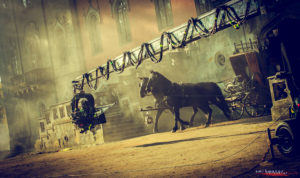 STEREOTECs philosophy is to provide the most precise, reliable and easy to use products. The use of durable materials assuring the longevity of a STEREOTEC rig together with "German Engineering" and a lot of passion. The rigs are constantly developed and improved by the company's experience in their daily 3D work in film or broadcast. Founded by stereographer Florian Maier and following his desire for professional high-end 3D tools, STEREOTEC has created rigs that are being used and appreciated by film makers and broadcasters throughout the world.
Not only manufacturing 3D rigs, STEREOTEC is one of the most renowned stereoscopic service providers worldwide. Their crews are involved in large and small productions all over the world. STEREOTEC was awarded with eleven Lumiere Awards for Outstanding Achievement ("Best Stereography", "Best 3D Feature Film", "Best Commercial", "Best Short Film"), from the International 3D Society in Hollywood – next to other international awards.
No matter if it is a feature film, broadcast, commercial or documentary – STEREOTEC rigs and their crew deliver the highest level of quality in the 3D area.

Vita of Senior Stereographer and Founder Florian Maier
Dr.-Ing. Florian Maier, founder and CEO of STEREOTEC, is one of the most renowned stereographers worldwide. Next to other international awards he is a twelve-time winner of the Lumiere Award for Outstanding Achievement ("Best Stereography", four times "Best 3D Feature Film", five times "Best Commercial" and twice "Best Shortfilm Live Action"), of the Advanced Imaging and 3D Society in Hollywood, the highest accolade for stereographers. Florian Maier has been pioneering 3D since he founded his company in 1997. Being the mastermind behind the construction of all STEREOTEC rigs, he has also been working as a senior stereographer for feature films like JOURNEY TO CHINA, RETURN OF VIY, HANSEL & GRETEL: WITCH HUNTERS, VICKY AND THE TREASURE OF THE GODS, HYPE NATION, various commercials (Volkswagen, Sony, Red Bull,…), documentaries like THE BIG JUMP or BAIKAL 3D, short films like BLOODDROP or CALL HER LOTTE and many more. He was also Supervisor of the STEREOTEC 3D System on Ang Lee's GEMINI MAN and his previous film BILLY LYNN'S LONG HAVETIME WALK from Sony Pictures both shot in 120 fps 4K 3D. Film schools, universities and professional 3D workshops request his expert knowledge. He has guided various workshops and master classes all over the world including Berlin, Beijing, Pusan, Hollywood, New York and Vancouver. Florian Maier believes that a stereographer should focus on creative decisions, which are driven by the completely new language of stereoscopic filmmaking. He is convinced that stereoscopic filmmaking will be successful, if it combines the artistic use of stereoscopic principles with technical precision, knowledge about human physiology, and a passion for filmmaking.
✓ Vita on IMDB: http://www.imdb.com/name/nm4305015/resume