STEREOTEC Rigs used in most successful Chinese Movie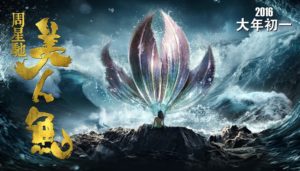 The Mermaid [Mei ren yu]
(China / Hong Kong 2016)
Director: Stephen Chow
DoP:
Stereographer: Stego Zhang
Mermaid Shan is sent to assassinate businessman Xuan who plans to use sonar technology to get rid of the sea life in the Green Golf area that he recently purchased. Despite her entire race is threatened Shan falls in love with Xuan…
With a budget of about US$ 61 million "The Mermaid" counts an opening day record of US$ 41 million. Amongst others like "The Monkey King 2" (also shot in 3D with STEREOTEC Rigs), "The Mermaid" lead the Chinese Box Office breaking all records worldwide for biggest box office in a week (US$ 548 million, 2016 Feb 8-14).
After three weeks in theaters "The Mermaid" for its own nearly reached the mark of half a billion US$.
This romantic comedy movie was shot with 2 STEREOTEC Light Weight Rigsand RED Epic cameras.
The rigs were used on crane, dolly and tripod.  Stereography was done by Stego Zhang.